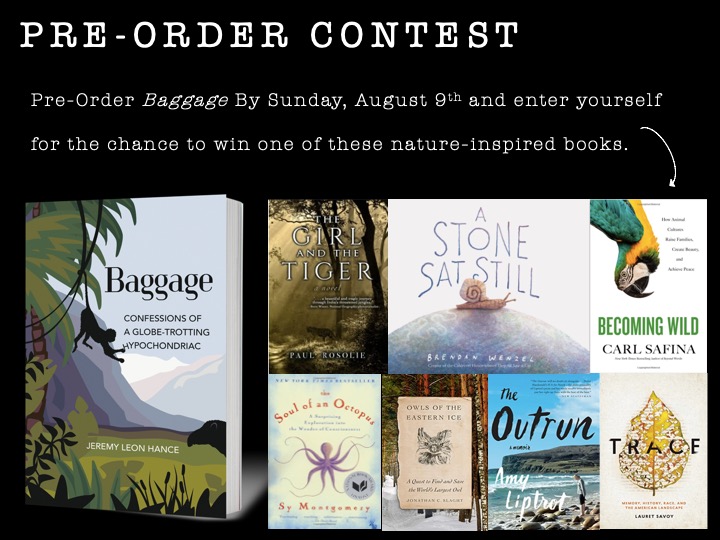 You can't have too many books about nature, right? And did you know that pre-orders really help books get on to bestseller lists?

With that in mind, we invite anyone who has pre-ordered Baggage by August 9th, 2020 to enter for a chance to win one of the seven nature-inspired books. We'll pick three winners the next week. Check out the bottom of the page for Terms & Conditions as well as information about the titles you can choose from.
CLICK HERE TO ACCESS THE QUICK 3-QUESTION SUBMISSION FORM
TERMS & CONDITIONS
By submitting your receipt in the Baggage Pre-Order Contest Form or via email, you agree to these Terms & Conditions.
Entrants have until August 9, 2020 to purchase and submit their receipt via the Jotform Survey above or emailed to jlhance@gmail.com.
This promotion is open to entrants who are at least 14 years old as of August 3, 2020.
One entry per purchase.
No entrant may receive more than one prize.
Prizes are non-transferable and non-refundable. No cash alternative is available.
Three separate entries will win (via random picker) their selected nature book, which we will do our best to mail your selected book to you anywhere in the world.
Unsuccessful entrants will not be notified.
We may amend or cancel the promotion at any time for any reason without notice. We may amend these Terms & Conditions without notice by posting changes to them on this website.
ABOUT THE BOOKS YOU CAN CHOOSE